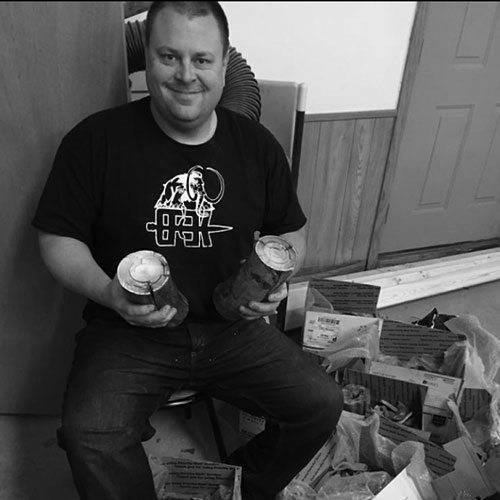 Dustin
JMW
Custom Grips
Dustin Hill owner of Burkett Customs/Burkett Family Custom Knives is a decorated 19 year career police officer in North Dakota. Dustin currently serves as a Drug Recognition Expert, Ice Diver/Dive Rescue Officer. Dustin is also currently assigned as a K9 Officer partnered with his K9 Gypsy an award winning police lab. Dustin is a Methods of instruction certified law-enforcement instructor.
Dustin was raised by a career naval Chief Petty Officer Douglas Burkett, Dustin's grandfather. Dustin attributes his relentlessness in the hunt for hard to find materials and fearlessness to his grandfather. After many years of watching and assisting his grandfather with making knives, gun stocks, and all things used outdoors Dustin left the hobby and pursued his career in law-enforcement.
After several years of working undercover narcotics and the things that go along with being a police officer Dustin's family recognized the signs of PTSD. Dustin saw he needed an outlet for stress relief and after starting making knives and s again at the suggestion of his wife Lisa Dustin started his business with a pawn shop sander and borrowed tools.
Dustin's proudest accomplishment is his daughter, wife, and 14 years of sobriety.
---